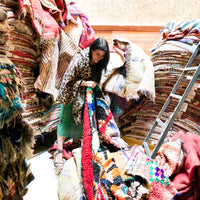 About MarraMarket
There is nothing quite like the experience of seeing an authentic Moroccan rug in Morocco for the very first time. For me, that experience came as I wandered the maze of the old-world Marrakech Medina, senses alive with the bold colours, sounds, and smells of the bustling shops of the souks. As a lifelong lover of interior design, fashion, and architecture, I couldn't take my eyes off the beautiful handmade rugs, each one a unique piece of art with a story to tell. It was in this moment that I knew I had to share this product with the world.
That is why MarraMarket exists – to bring the beauty of Morocco into your home. Whether it's to serve as the finishing touch on an interior design project, or to liven a space that's been lived-in for years, our curated collection of authentic, handmade Moroccan rugs will bring a unique story into your home…one that tells the tale of the magic that is Morocco.
More About Our Brand
Customer Reviews
★★★★★

Thanks so much! I love this rug. Second rug purchased from this store and both times were a great experience. I received them very quickly and exactly as pictured. Thanks again.

Scott
★★★★★

Great rug, fits our living room perfectly and makes it very cozy this cold winter. Customer service was excellent, too!

An
★★★★★

Beautiful rug, great pattern. Exactly as pictured. Awesome customer service! I will definitely shop again when I am in the market for rugs

Rebecca
Curated with Care in Morocco
More About Our Products
Though there is a look and feel that makes a rug uniquely Moroccan, there is actually quite a bit of variety when it comes to Moroccan rug styles. Marra Market offers a wide selection of both vintage and contemporary Moroccan rugs, including Azilal, Beni Ourain, Beni Mrirt, Boucherouite, Boujad and Zanafi rugs. While the style you prefer may vary based on your interior design ambitions, rest assured that every rug we offer contains the very best of what makes Moroccan rugs so special – high-quality wool, unique colours, beautiful patterns and designs, and an attention to quality and detail you won't find anywhere else on Earth.
In addition to Moroccan rugs, we also carry poufs (floor cushions), pillows, and blankets, all of which can help tell a story as you decorate your home. And with frequent visits to the souks of Morocco to scout new designs and new artists, we are always open to sourcing other materials for your interior design needs as well.
Follow Us on Instagram @marramarket